The Ospidillo Cafe Italian Salad Dressing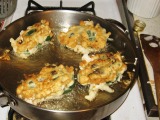 I always offer two dressings on the table here at The Ospidillo Cafe; The Stone Pipe Inn Salad The Stone Pipe Inn Salad and this one. When I place salads on the table, my guests typically query, "Where's that good salad dressing that you make?" I just point to the two carafes and about half take one and half take the other; they taste nothing alike.
Directions
Blend all ingredients in a mixer for 20 minutes. (I use a KitchenAid mixer on speed setting number 2).
Refrigerate for at least 30 minutes before serving.
When dressing gets too cold it will solidify somewhat, due to the olive oil, so allow it to set out 1/2 hour or so if this happens.
Also, I prefer to use Tupelo honey when I have it available which is much higher quality in flavor than regular clover honey.
For the Italian spices, I use 2 teaspoons of Dee514's Italian Blend Spice Mix Recipe #38293. Here it is:
2 tablespoons basil, 2 tablespoons marjoram, 1 tablespoon garlic powder, 1 tablespoon oregano, 1 tablespoon thyme, 1 tablespoon rosemary, 1 tablespoon crushed red pepper flakes.
Reviews
Most Helpful
This is delicious! I did sub one ingredient and that was the white wine vinegar for apple cider vinegar. I don't think that it changed the recipe and it is yummy! I could see using this for a basting sauce while grilling chicken. This makes alot and that is fine with me. I will make this again and again and again. Thank you pat for this tastey salad dressing. 1/1/10: edit to add made this again with my new immersion blender and added blue cheese oh yummy! Shirl

I tweaked the recipe just a bit based on other reviews; uping the vinegar just a tad and lowering the oil just a tad. I used Delallo's Rosemary & Garlic Dipping spices instead of preparing the mixture described, and used Splenda in place of the sugar. I blended, instead of mixed and did not run it for the entire 20 minutes. I made a salad of romaine, red peppers, shredded fontinella, shredded mozzarella, crumbled bacon and croutons and topped with this dressing. Quite fabulous and easy to throw together. I am interested to see how it tastes tomorrow after all the flavors have blended. Thanks for a nice, home-made dressing.

Despite being a dietary nightmare with the huge amount of oil (nearly a 4:1 ratio of oils to vinegar!), along with mayonnaise, sugar, and honey, this is a dressing I had wanted to try for awhile. Like another reviewer, when I made it as directed, I found it to be lacking in flavor, incredibly oily, and a bit too much on the sweet side. It did emulsify pretty well. After tweaking it a fair bit, adding more spices, more salt, and a few extra splashes of vinegar, it was alright, especially on a spinach salad. Giving it time in the fridge is definitely a must.