The Ospidillo Cafe House Soup
Bone Man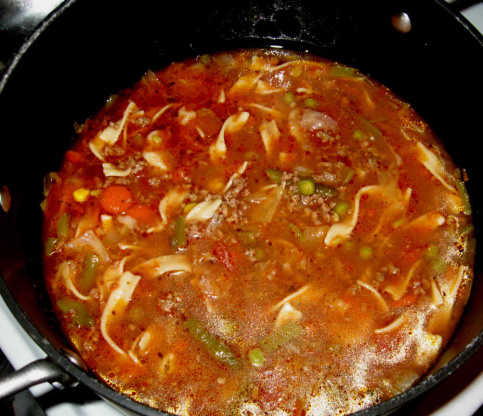 This is the one you want when you're tired, you don't have a lot of time, and you don't know what in the world to fix for dinner -- pretty much makes everyone happy. Adjust the vegetables based upon what you have on hand. This soup is essentially a bright-tasting, hamburger-based minestrone. Enjoy, my brothers and sisters. *.*

OH nummy nummy goodness! Perfect for our chilly northwest weather. THANKS Bone Man!
1 1⁄2 lbs ground chuck

2

Italian sausages, casings removed (about 1/3 pound, I use "sweet")

1

medium onion, chopped
3⁄4 teaspoon chicken flavor taco seasoning (or, sub. mix of 1/2 chili powder, 1/2 poultry seasoning for a total of 3/4 teaspoon)

15

ounces green beans, canned, drained

30

ounces canned stewed tomatoes, with juice

15

ounces canned potatoes, drained

15

ounces canned carrots, sliced, drained

1

cup frozen peas

1

cup frozen mixed vegetables
1⁄3 head cabbage, chopped

32

ounces chicken broth, canned

2

teaspoons tomato bouillon with chicken flavor (or, 2 large Knorr cubes)

5

cups water

1

teaspoon seasoning salt

1

teaspoon dried oregano

2

teaspoons garlic oil (I use the hot type or you can just mix oil and garlic)

1

teaspoon kosher salt

3

cups egg noodles, cooked and cooled
In a large cooking pot, pour in the garlic oil, the ground chuck, the Italian sausage, and the onion. Brown the meat blend and drain the grease from the burger blend. Return it to the pot after draining.
Add all remaining ingredients except for the noodles and bring to a boil. Reduce heat to low, cover and allow to simmer at a low boil for about an hour.
At the end of an hour, add the cooked, cooled noodles, simmer for five more minutes and serve. Some people may want more salt but I just let everybody add any further salt at the table.
NOTE: This soup goes great with oyster crackers or with a grilled swiss cheese sandwich.