The Ospidillo Cafe Crab Chowder
Prep 15 mins
Cook 30 mins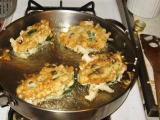 But it's NOT crab -- it's imitation crabmeat so it's CHEAP... and delicious! I created this one because I really like the cream chowders that I've savored in New England. We have trouble obtaining good seafood where I live here in southern Ohio, so I decided to make due with what I COULD get. One thing that's always cheap and available around here is frozen imitation crabmeat. So I gave this a lot of thought, did some preliminary experimentation, and this dish was the ultimate result. I'm very happy with this recipe and I find it quite similar in flavor to a rich clam chowder. The idea of using local fresh and common vegetables worked out well for boosting the flavor too. While the veggies enhance the dish, make no mistake about it, this recipe definitely conveys the full ambiance of a seafood chowder. Cooking and prep times are approximate. I hope you enjoy it as much as I do. big pat.
Directions
Melt the butter in a small sauté pan. Add the onions, stirring constantly over medium heat for 1 minute. Then whisk in the flour and continue stirring until onions begin to brown slightly and remove from heat. Set this roux aside.
In a cooking pot over medium heat, pour in the chicken stock and add the potatoes. Boil, covered, until tender.
When the potatoes are tender, mash them in the stock a bit and then add in the cabbage, carrots, parsley, kosher salt, oregano, the jalapeño slice, and seasoned salt. Bring it to a medium boil, covered and cook until carrots are just tender.
After carrots are tender, add in the butter roux and stir, (The broth will thicken), then add the zucchini, cover, and allow it to cook at a low boil for 3 minutes.
Next, add the crabmeat, the half and half, and the white pepper. Reduce heat to low, cover and allow it to come to a low boil. Once it begins to boil again, remove the cover and let it simmer for about 5 minutes, stirring frequently so it doesn't scorch on the bottom.
Serve hot.
Most Helpful
I can't say enough about this recipe. It's perfect!!! The veggies are great together and it has the perfect amount of seasoning and spice. The white pepper adds a bit of spice and the jalapenos (I never de-seed) added the perfect amount of heat. I didn't need to add a thing which is very rare. I followed the recipe with the exception on using a green zucchini and reduced the recipe to 5 servings. I'm not sure if I'll be sharing the leftovers. Thanks so much for posting this. I love it.

This is the best crab chowder recipe! Even both my children love it and their taste buds fall to opposite ends of the spectrum when it comes to food. I was told by my teen not to alter anything when I made it a second time because it is perfect just like it is. However, I was out of zucchini and subbed some other green veggie, maybe broccoli, that I cannot remember the first time. This makes more than our family of 4 can eat at one setting, however the leftovers are just as delicious. My husband is not a fan of cabbage, but he claims this is the most delicious cabbage he's ever had. This recipe goes into the mix!

This is an excellent chowder! I too followed the recipe to a T - it is a tad thick, so I usually substitute either skim milk or evaporated milk for the 1/2 & 1/2. Amazingly good & great flavour. I just read other reviewers suggestion to add clams - so next time I'll throw a can in as well. A must try & real keeper :-)