The Ospidillo Cafe Cabbage Roll Sauce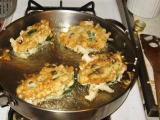 Most accomplished cooks have their own cabbage roll filling recipe -- this is just a recipe for an especially good sauce to complement your own cabbage rolls. It is tomato-based and the dill really comes through. My wonderful mother-in-law gave me the original recipe and I tweaked it with the wine. It will easily provide enough sauce for 12-15 big cabbage rolls. I love this sauce!
Directions
Sautee the onion in the olive oil in a thick-bottomed pot until tender. Do not drain.
Add all other ingredients, cover the pot, and simmer for an hour or so, stirring frequently.
NOTE: Sometimes, I use 2 large chopped onions instead of just one.
Most Helpful
I made this tonight to go over stuffed bell peppers it work wonderfully great sauce thank you