The Original Rice Krispies Treats Squares
Izy Hossack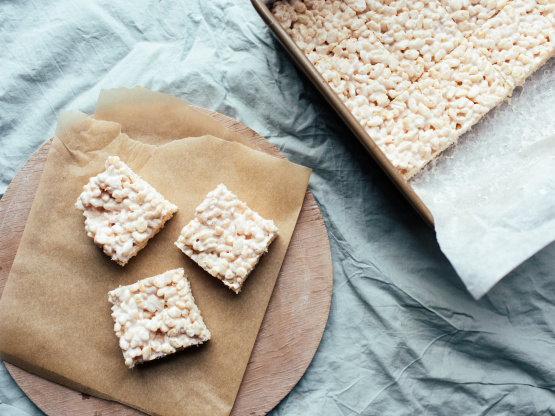 This is the recipe for the original rice krispies treats squares...It never fails! Plus, it is a great way to use up a box of cereal! For best results, use fresh marshmallows. I have replaced the butter once with Mott's Healthy Baking butter or oil substitute (it was basically an unsweetened apple sauce) and they still turned out great!

Thanks for posting this great recipe. I also bought Rrice Krispies with no recipe on the box. You'd think I'd remember how after making this tons of times in the past 60 years, but, of course, I didn't. Anyway - yummy and as usual I had to eat the first one while it was still gooey and falling apart. They set up if you can wait awhile. Great for kids and not so young kids.
Melt butter in a large saucepan over low heat.
Add marshmallows and stir until completely melted.
Remove from heat.
(It would be perfect to be measuring out all of the cereal at this time, having it ready in a large bowl.).
Working quickly, add rice krispies cereal, and stir until the cereal is well coated.
Using a buttered spatula or waxed paper, press the mixture evenly into a greased 13 by 9 by 2 inch pan (or whatever pan you have on hand).
When the treats are cooled, cut into squares.
Serve, and enjoy!