The Original Cabbage Soup Diet
Bergy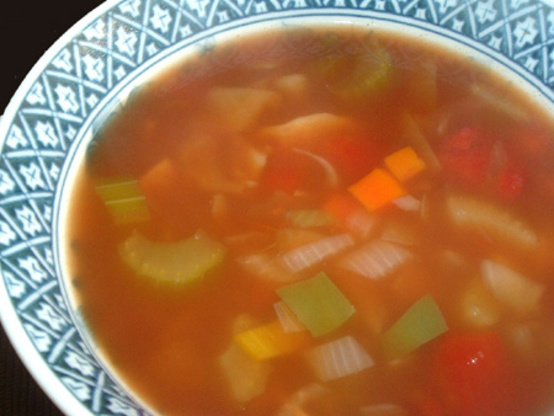 I got this out of the National Enquirer in 1995-1996 when the soup diet originally came out. I don't remember the rules of the diet other than you could eat as much of this as you wanted.
It's probably pretty good, but I hate to break it to you that the 'original' diet cabbage soup is from ...lemme see....40 years ago? We lived around the corner from Mrs. Gooch's in WLA. I was 'chubby' as a child and was subjected to all kinds of holistic/health food diets. Yes, 'subjected'. Try eating nothing but apples for 3 days followed by an 8th of a cup of olive oil and lemon juice! UCK. <br/>In any event, the original base was just that. Cabbage. Now I realize it's more like a mirepoix with tomatoes added. 4 ingredients plus salt. Cabbage, whole stewed tomatoes, celery and onion. <br/>That said, then we'd add a tiny bit of this or that if desired. My mom was one of those that didn't know the beauty of herbs and spices for flavoring. So it was purely by accident that we came across using parmigiana cheese. <br/>I agree that carrots would be a tad sweet, at least for my palate. Bell peppers sound great. I'm also going to try some parsley. Plus now I add garlic as well. I'm in the process of cooking up a batch at this moment. I'm guessing from the ingredients it will be at least a 4 star soup!
Place all in large stock pot and bring to a boil.
Simmer for 1 hour.
Refrigerate all leftovers.