The Only Blueberry Pie Recipe You'll Ever Need
WiGal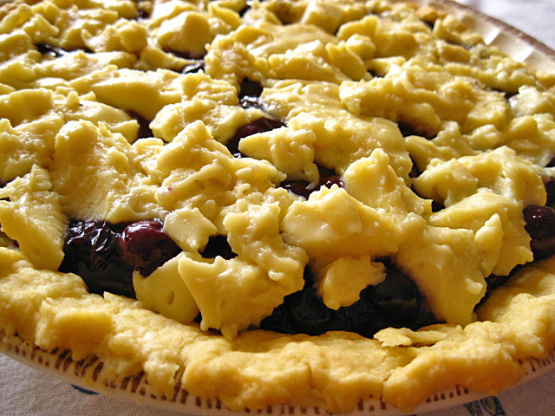 The title explains it all--the mixture of cooked and uncooked berries cause a taste sensation in your mouth--the textures of the uncooked berries popping as you bite into them releases sheer pleasure. This pie has a custard layer and a fruit layer--it is decadent! This is my most requested recipe. Be sure and use WHOLE milk. It makes a difference. Also be sure and follow steps--NOTE: butter, cornstarch, berries, and sugar are added in increments--follow directions. prep and cooking time is mostly refrigeration time. Start this pie in the morning and chill it all day--ready for dinner.
Bake and cool deep dish pie shell following directions on the package; set aside.
In 2 quart saucepan, mix milk, egg yolks, 1/4 C sugar, and 2 T cornstarch.
Cook over medium heat until the mixture boils and thickens, stir constantly.
Stir in vanilla and 1 T butter.
Transfer this custard mixture to shallow glass dish (not in pie shell).
Cover in plastic and place in refrigerator for 2 hours.
In 3 quart saucepan, stir 1 C berries with 2/3 C sugar, 3 T cornstarch and 1 C water.
Heat to boiling over high heat.
Cook 2 minutes until thickened, stirring constantly.
Stir in lemon juice and 1 T butter.
Stir in remaining berries.
Spread chilled custard mixture into prepared pie shell.
Top with berry mixture.
Allow 3 hours in refrigerator for pie to "set" before serving.
Enjoy!
Make copies of this recipe--they're all going to want it!