Leslie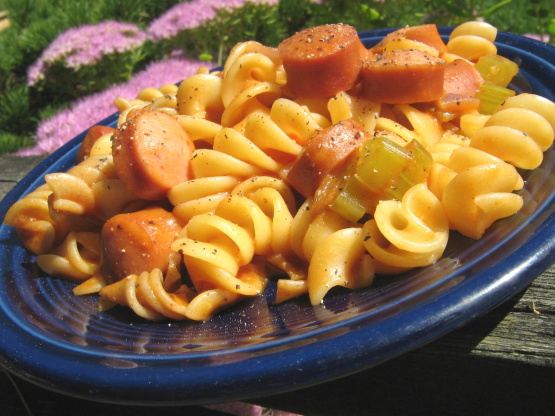 My mom started making this recipe for our family when I was a kid and now my kids enjoy it too.

This was very fast to make and easy. Wow 900 g of pasta is two pounds as I was measuring out my scale read 400 grams and the basket was full and I still had to cook the pasta!! I sauted the onion and celery in 1 tablespoon of butter and also added 1 cup of frozen corn at this time. In the end I am so glad I did not use the full amount of paste. It feed 6 of us and there is still a over a fourth of a large skillet with leftovers in it.
Cook pasta and drain.
Fry onion, celery and wieners, until done.
Stir in tomato soup, 1 can of water, and chili powder.
Heat until mixture bubbles.
Place pasta and corn into a large bowl.
Pour hot mixture over top and mix well.
My kids love this recipe and it makes a very fast supper.