The Most Tender Country Style Honey BBQ Ribs
mis liz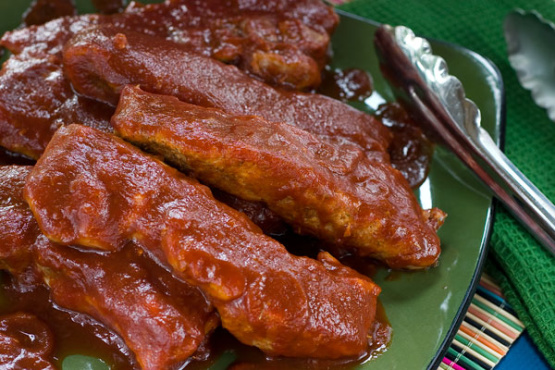 This is a personal recipe i came to figure out on my own through trial and error, i am not a huge fan of chewy or hard ribs so i found a way to make the meat extremely tender and everyone i make these ribs for has LOVED them, i hope who ever tries my recipe enjoys them as well! I preffer to use country style ribs without the bone, that way you get more meat for your money. As far as sause i love kraft's honey barbecue sause. You can use a cookie sheet for this but i have found that a baking dish with handles works a lot better and easier with the tinfoil

Unfortunately my luck with this recipe did not yield the good results of the others posted. Too much salt for one; I think sprinkling each piece with the seasoning chosen would be better in getting correct amount. 20 minutes of baking did not give me the browning effect that I desired, so I browned longer. Did not get the carmelized effect after 20 minutes so baked longer. By that time the pan was becoming charred. Baked 2 hours after covering with foil. That seemed to be appropriate, but the final product had some of the meat dry and charred, I presume from over baking in beginning. ( Guess I can be blamed for that because of cooking longer than designated times trying to get correct visual effects.) I've had better results with other recipes by putting on sauce, covering & baking, then removing cover to brown at end.
3

lbs country-style pork ribs, thawed (without the bones)
honey barbecue sauce (your choice of sauce)

2

teaspoons minced onion flakes

2 -3

tablespoons Lawry's Seasoned Salt

1

tablespoon garlic salt
salt and pepper
1. In a dish sprinkle salt, pepper, garlic salt, seasoning salt and minced onion flakes all over, then take each slice of rib and rub both sides with the seasoning mixture. Make sure each rib is well coated.
2. Line a baking dish with heavy duty foil and spray with pam, preheat oven to 350 degrees.
3. Place ribs inside the baking dish and inside the oven for 20minutes until meat is browned on both sides. You can flip them over halfway.
4. Take ribs out and brush on honey bbq sauce on top of ribs generously and put back in oven for another 20minutes until sauce is caramelized. Once sauce is caramelized add more sauce to the top of the ribs.
5. Cover the baking dish with foil well to make sure no steam can come out but try not to touch the top of the ribs. Make sure all sides are well sealed and put back into the oven.
6. Turn oven down to 250 degrees so sauce won't burn and let them bake for 2-3 hours. After two hours have passed, pull back a corner of the foil and poke one of the ribs with a fork to check the tenderness of the meat, if you desire them to be even more tender put the tinfoil back over tightly and let them sit for another hour.
7. After ribs are done peel back foil carefully as steam will come out, take out ribs cover with sauce again and they are ready to be served!