The Moon is Made of Green Cheese Spread
Ms B.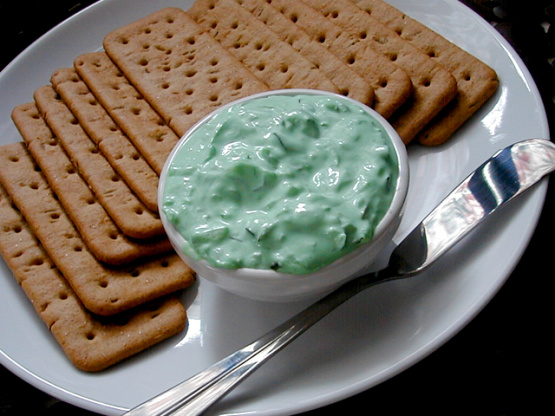 Recipe by Tish
I was looking for a way to sneak something into my little girl's usual bagel spread and here it is. It is also good as a dip or cracker spread...in fact it might be a cute addition to the St. Patricks day celebration!

Top Review by Ms B.
My Hubby invited last minute guests to join us for corned beef and cabbage on St. Patty's Day. I whipped this up as a quick appy to snack on while sipping green beer before dinner. The flavor is light and fresh with the cucumber, but I did need to add a good shake of salt while mixing. I served this with rye crackers.
Grate 1-2 Tbs cucumber, more or less, depending on how soft or firm you want the spread to be.
Grate 1-2 tsp of onion, to taste.
Add 1 drop of green food coloring.
Mix all together.
Store in refrigerator.