The Monkey Made Me Make 'em! (banana Ch.chip Cookies)
LAURIE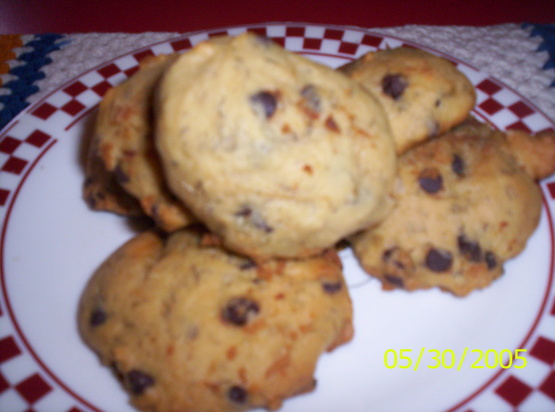 I just came up with this one after basing it off several recipes. I had 2 use up some extra banana and was in the mood for cookies and chocolate, and a healthier alternative. These fit that bill and taste great, like a chocolate covered banana!!

these are fabulous! I just made them this morning and they're like muffins that think they're cookies (or vice versa). very easy to make and super yummy. thanks for the recipe :)
Preheat oven to 350 degrees F and spray cookie sheets w/non-stick spray (like PAM) Combine first 3 ingred.
with a mixer until creamy.
Add bananas, eggs and vanilla; mix until throughly combined.
In a seperate bowl combine flour (s), baking soda and pudding.
Gradually add the flour mix into the wet mix.
Fold-in chocolate chips.
Drop by tablespoons onto cookie sheets and bake for 8-10 min.
or until bottoms are a slight brown.
Cool on wire racks.