The Lady's Chicken Noodle Soup - Paula Deen
CindiJ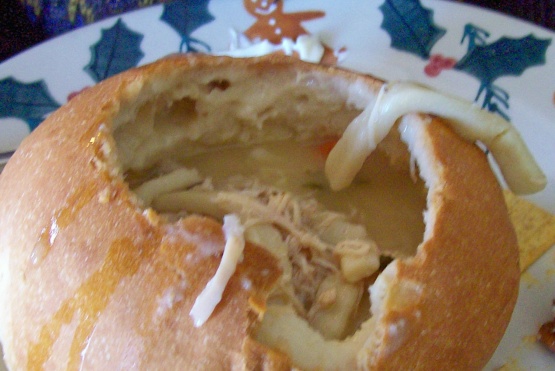 This recipe is from the days that Paula Deen started "The Bag Lady", where her sons would go out and sell their mother's meals. The recipe is courtesy of Paula Deen, 2003 Television Food Network. She was very overwhelmed when she cooked this soup and it looked very good! Hope to be trying it very soon. 05/08/07 Update . .DELICIOUS, did change a few things around - first added carrots and celery to the stock, as well as dill (it really makes the soup even better.)

This reminds me of the way my grandmother made chicken noodle soup. I did this in two steps--made the stock and deboned the chicken, chilled the stock in the refrigerator and then removed the fat that settled at the top. Next day, I made made the soup. This has such wonderful flavor and would be good anytime, but especially when you feel blah. This is a great recipe-Thanks for sharing it.
FOR THE STOCK:.
Add all ingredients to a soup pot.
Cook until chicken is tender, about 35-45 minutes.
Remove chicken from pot and set aside to cool.
Remove and discard bay leaves and onion.
You should have approximately 3 quarts of stock.
When chicken is cool enough to touch, pick bones clean, discarding bone, skin and cartilage.
Set chicken aside.
FOR THE SOUP:.
Bring stock back to a boil.
Add carrots, and cook for 3 minutes,.
Add celery and continue to cook for 5-10 minutes.
Add egg noodles and cook according to package instructions.
When noodles are done; add chicken, mushrooms, parsley, sherry and rosemary.
Add Parmesan and cream, if using.
Cook for another 2 minutes.
Adjust seasoning, if needed, by adding seasoning salt and pepper.
Enjoy along with a nice hot crusty loaf of French bread.