Alskann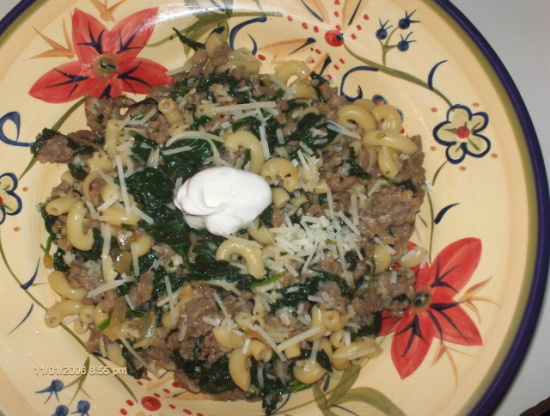 This is good Italian "peasant" food, or so one italian friend of mine says. I call it wonderfully hearty, flavorful fair. We named this in honor of the gentleman who first invited us to dinner and made this for us.
Wonderful flavor! Love the combination of spinach, sausage, and spaghetti. I found it to be a bit dry for my taste, and decided to throw in a can of spaghetti sauce. TFS :-)
Cook pasta according to package directions for Aldente.Toss with a little olive oil and keep warm.Set aside.
While pasta is cooking, in a large skillet brown the italian sausage until no longer pink. Set aside.
Wipe out skillet with a paper towel and return to stove top. Heat olive oil 2-3 minutes then saute onion and garlic until onion it translucent over medium heat.
Now add cleaned dry spinach to onion and garlic and toss as for stir fry adding more oil if needed until spinach is thouroughly wilted.
Add herbs and pepper a minute or two before spinach is done.
Combine spinach sauce with sausage and heat just long enough to heat everything through.
Now toss with warm pasta and sprinkle liberally with grated parmesan or romano cheese just before serving.
Serve with a crusty bread and small salad it you like.