Bayhill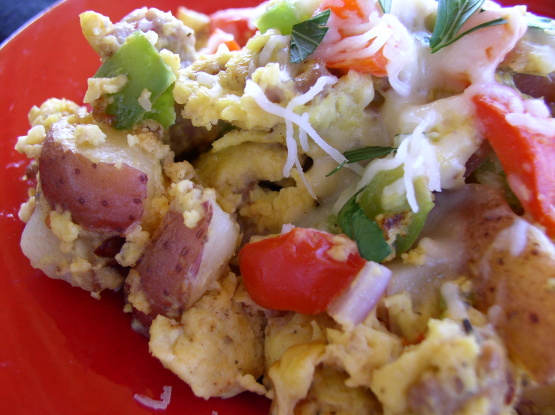 From Dom DeLuise. Be sure not to overcook the eggs. The original does not say what kind of grated cheese to use on top. I chose Parmesan, but you can use whatever you want. Serve with hot Italian bread.

A very good breakfast scramble that we enjoyed this morning. For the two of us I did halve the recipe and there was more then enough for two good size servings. Since peppers are not DH's favorites I used a larger red pepper, cooked the potato in the microwave, used a red onion and cherry tomatoes instead of a whole tomato. Great flavors, cheesey goodness, and everything you would want in one dish. Chocolatl thank you for sharing this recipe with us! Made and reviewed for the 2014 Culinary Quest - Cruisin' Culinary Queens.
Heat olive oil in a large frying pan and add the potato. Cook over medium heat, stirring occasionally.
Remove sausage casings and crumble meat into the pan. Cook, stirring, until lightly browned.
Add onion and peppers. Cook until onion is softened and potatoes are done.
Beat eggs, milk and oregano together.
Add egg mixture, tomato and mozzarella all at once.
Reduce heat and cook, stirring lightly, until eggs are soft and fluffy.
Top with grated cheese and parsley.