The Incredible Edible Flower Salad With Fresh Herbs
Ms B.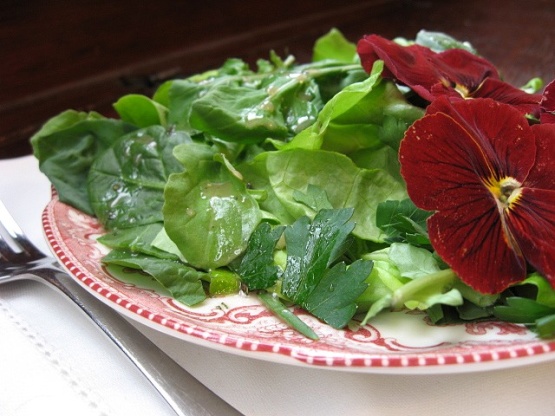 From Delicious Living! Make a colorful splash for your next get-together! For quicker preparation, use a bag of organic mixed greens.

Top Review by Ms B.
Before our plans developed into staying home alone on Easter, I had picked up some edible flowers to use in the salad for dinner. I had no idea what I was going to do with them, but a quick search of Zaar found a salad for which I had most of the ingredients. As I prepared it with just butterhead lettuce, arugula, spinach, basil, Italian parsley, green onions for the chives, and dill weed instead of the seeds in the dressing, it has INCREDIBLE FLAVOR. The blend of greens is peppery and fresh, the dressing is light and tangy with just the right amount of sweetness. Yum. I will make this again, even if I don't have edible flowers.
*NOTE: Any of the following **UNSPRAYED/PESTICIDE-FREE** flowers will work in this recipe: nasturtiums, daylilies, pansies, borage, roses or the flowers from culinary herbs.
VINAIGRETTE: In a small, non-reactive bowl whisk together all salad dressing ingredients. Set aside. Best prepared 30 minutes to 1 hour in advance.
SALAD: Wash and *gently* pat dry the butterhead lettuce, all herbal greens and edible flowers.
Tear apart the butterhead lettuce and any large-leafed herbs.
In a pretty salad bowl, toss together all greens except for the flowers.
Pour the vinaigrette over the salad and toss gently to coat.
Garnish with the edible flowers and serve immediately.