The Healthiest Overnight Maple Oatmeal
Basil321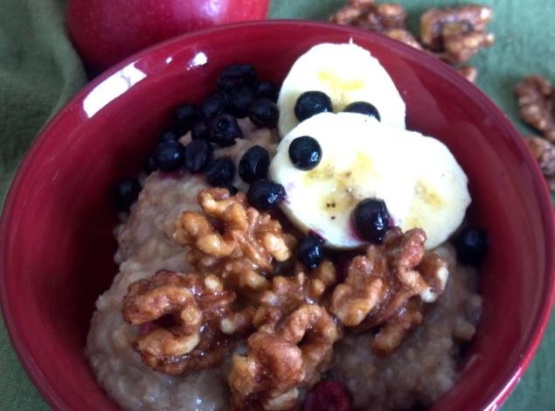 Mornings are hectic in my house so to combat the temptation to grab a cookie or some other unhealthy choice for breakfast I make this incredibly good and healthy oatmeal in the slow cooker once a week. It can easily be kept in the fridge and reheated each morning in just a few minutes! Packed with heart healthy oatmeal and other high antioxidants and energy boosters and low calorie and the taste is out of this world.
Spray the inside of a 4-5 quart slow cooker with nonstick cooking spray. Add the Oats, Water, Maple Syrup,Dried fruit, Cinnamon and Ground Flaxseed.
Set slow cooker to Low and cook for 7-8 hours.
When ready to serve, top with Blueberries ( Fresh or Frozen) Banana slices, and Walnuts.