The Have Your Cake and Eat It Too - General Tso's Chicken
xtine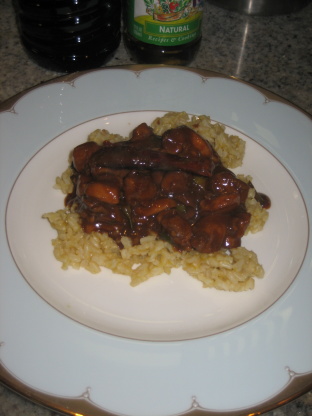 When ordering General Tso's Chicken at the restaruant, the chicken is typically double deep-fried. This recipe is definitely a healthier version with the same ooie gooie sauce.

Top Review by xtine
I was really glad to find this recipe, since my husband loves this stuff and I'm trying to get him to eat healthier. Double deep fried! I knew the regular version was bad for you but I didn't know it was that bad ;) Anyway, my husband really liked it. I added 1/2 teaspoon five spice powder, just because I had it on hand, and I used low-sodium soy sauce. Thanks for a great recipe!
Combine rice wine, oyster sauce, 2 tsp cornstarch & mix well. Add chicken & toss to coat. Let stand for 10 minutes.
Combine broth, vinegar, soy sauces, sugar, and sesame oil in a small bowl.
Place a wok over high heat until hot. Add oil, swirling to coat sides. Add whole chilies and stir-fry for until fragrant. Add chicken and stir-fry for 2 minutes. Add garlic, ginger, green onions, and crushed chilies. Stir-fry for another minute.
Add sauce to chicken and cook, stirring, for 1 minute. Add cornstarch solution and cook, stirring, until sauce boils and thickens.
Serve with white rice.