The Great Montezuma's Favorite Hot Chocolate Drink
Brenda.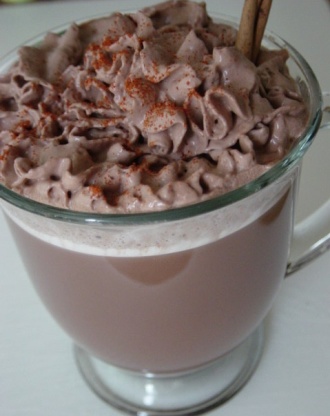 I found this recipe on the internet. It was developed by Richard Sterling and is his version of how the Spaniards transformed Montezuma's favorite beverage.

Since I don't drink, I have no idea what Pepper Vodka is and left that out... Was really unsure about the honey in it -- but it was actually pretty good!! Couldn't taste it much, but it was more of one of those "Hmmm, there is something in this that makes it really good, but not can't quite put my finger on it" things
Combine the hot chocolate, honey, vanilla and vodka in a small pitcher.
Pour into two tall glasses or Irish coffee glasses.
Pour 1 tablespoon of cream on the top of each glass and let it float.
Dust with a pinch of cayenne pepper and garnish with cinnamon sticks. If preferred, you may garnish with grated chocolate and a dried red chile.