The French Picnic Baguette - Pan Bagnat
JustJanS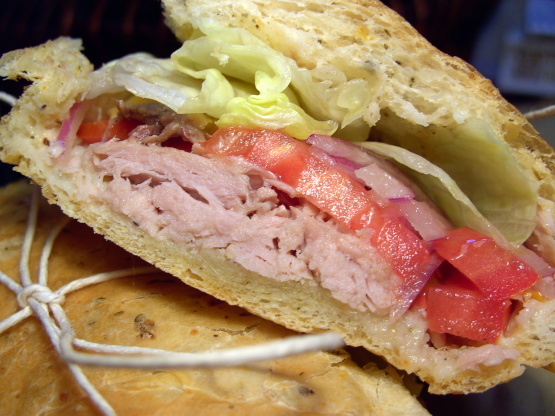 This delightful sandwich from Nice, in the South of France, started out as a Salade Niçoise in which stale bread was crumbled about an hour before it was served. The name literally means "bathed bread" - alluding to the spreading of olive oil on the bread and the softening of the inside of the bread after the filling has been added. It can be made with varying ingredients and various amounts but the basics are listed below, feel free to adapt it to your own preferences. I make these the night before we plan to go on a picnic; I then wrap a piece of greaseproof/brown paper around each roll or baguette sandwich, and tie them with kitchen string - it keeps them all together and looks very "French Rustic"! (It also helps to hold the sandwich together whilst eating them!) A French classic which is essential on the picnic menu.

I made this for our lunch today, what a treat. I made no changes to the recipe apart from having to use very crappy bread rolls (but lucky to get them where we are). So I'm rating this on the delicious filling not them! Actually, I had to make one other substitution-we are travelling away from home and my Larousse Gastronomique is not with us-I was forced to use The Birds of Australia, but I don't think this altered the outcome ;-)
Cut the baguette into even size portions.
Then cut the baguette pieces or bread rolls in half lengthways, and scoop out some of the bread filling. (You use this for a gratin-type affair later in the week or for breadcrumbs).
Rub the garlic over the inside of both halves, drizzle with a generous amount of olive oil and season well.
In one hollowed-out half, pack in the egg slices, tuna, tomatoes, anchovies, olives, chopped red onion and lettuce leaves.
Drizzle with more oil, and a little white-wine vinegar.
Put the other half of the baguette or bread roll on top, wrap snugly in tinfoil and place on a flat surface. Lay some big books on top to weigh it down. (I use a Larousse Gastronomique!).
Leave for an hour or two. Then remove the tinfoil and wrap a band of greaseproof or brown paper around the middle of each portion, and tie tightly with kitchen string.
These can then be stored overnight in a covered container until next day. (This is not necessary - but can be handy to avoid all the fuss next day!).
Take them on your picnic with wine, fruit and good company!
Sublime!