The Fix for Leftover Mashed Potatoes
teresas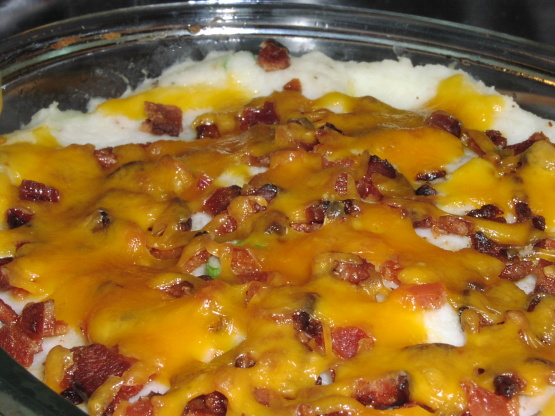 This is a tasty way to fix leftover mashed potatoes so they don't feel like leftovers. Sometimes I make too many potatoes on purpose, so I can make this up and refrigerate it for later in the week.

YUMMY! We NEVER have left over mashed potatoes, so I made instant mashed potatoes (we really like them just as much as real ones :) just so I could try this recipe. Everyone loved it, even the kids. Next time I make mashed potatoes and serve them "as is", I will make extra so we can have this dish a couple nights later. It is REALLY tasty and not "same old, same old"! Thanks!
Preheat the oven to 350°F.
Mix the potatoes, green onions, onion powder, black pepper and sour cream.
Spread mixture evenly in a greased baking dish and sprinkle with bacon and grated cheese.
Bake approximately 20 minutes until mixture is hot and cheese melted.