The Farmers Vegetarian Pizza
Prep 32 mins
Cook 28 mins

For the vegetarian. Pizza with fresh vegetables, and no meat.
Directions
Preheat oven to 425 degrees, and position an oven rack in the next to lowest setting.
Place a 16 inch pizza pan on the rack.
Heat a nonstick skillet over medium-high heat, and add olive oil to pan and swirl to coat.
Add 2 cups onion and thyme to pan, cook 3 minutes or until onion is tender, stirring occasionally.
Add bell pepper, and garlic to pan, cook 1 minute or until thoroughly heated.
Roll dough into a 16 inch circle on a lightly floured surface.
Remove pan from oven, and coat with cooking spray.
Place dough in pan, and arrange mozzerella slices evenly over dough.
Spread corn mixture evenly over cheese, and top with Parmigiano-Reggiano cheese.
Bake at 425 degrees for 23 minutes.
Arrange tomatoes evenly over pizza, and bake an additional 5 minutes or until crust is browned.
Remove from oven, and sprinkle with basil.
Cut into 6 slices.
Reviews
Most Helpful
An absolute specimen of pure beauty, this pizza could easily be the best pizza I have ever made or had. I used mini sweet peppers and red onion along with the fresh corn and garlic. I also used cherry tomatoes as those were the only ones I had on hand. I highly recommend to anyone and everyone to make this pizza! It really is that wonderful! Excellent recipe weekend cooker, thank you for posting!
ETA: I forgot to mention that I made my own homemade thin and crispy pizza crust for this.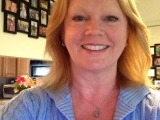 Wasn't sure I was going to like corn on a pizza but turned out great. Didn't have basil so used pesto. Loved it with a salad for meatless Mon.

What a unique pizza! Very tasty, filling and satisfying. DH had his reservations when he heard what we were eating for dinner, but quickly exclaimed the it was good after his first bite. I ran out of thyme so I substituted a little poultry seasoning and it worked great. I got a little confused as to whether I was to add the corn to the onion and bell pepper mix while cooking or leave it raw, the recipe just states to top the pizza with the corn mixture, but never says what the corn is to be mixed with. Also I didn't realize I needed tomatoes for the pizza, they weren't listed in the list of ingredients. It was those things that kind of threw me off guard while making this. But, the finally outcome was really yummy. Thanks for sharing this fun recipe.