The Famous Senate Restaurant Bean Soup
ChefLee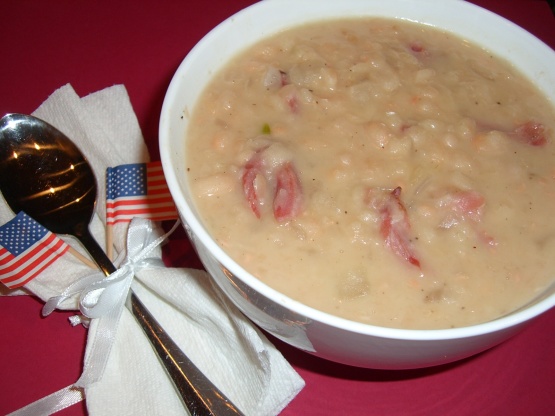 Whatever uncertainties may exist in the Senate of the United States, one thing is sure: Bean Soup is on the menu of the Senate Restaurant every day. The origins of this culinary decree has been lost in antiquity, but there are several oft-repeated legends. One story has it that Senator Fred Thomas Dubois of Idaho, who served in the Senate from 1901 to 1907 and sat as chairman of the committee that supervised the Senate Restaurant, gaveled through a resolution requiring that the bean soup be on the menu every day. Another account attributes the bean soup mandate to Senator Knute Nelson of Minnesota, who expressed his fondness for it in 1903. In any case, Senators, and their guests, are always assured of this hearty, nourishing dish. They know they can rely upon its delightful flavor and epicurean qualities. (Recipe from the Honourable and Mrs. John D. Rockefeller, IV, U.S. Senator, West Virginia.)

Top Review by tenlaw
This is a wonderful bean soup recipe. I intend to use it this fall for football tailgate parties. My soup, while having great flavor, was a little short on the meat. The smoked ham hocks I used were the last pound and a half the store had the day I was shopping. I'm going to increase the ham hock amount from 1 1/2 lbs. to 3 lbs. next time. The volume of soup using the basic recipe was just right and allowed me to have additional meals. I work various shifts, and when I'm on the late shift I don't like to cook much so I prepare what I think I may want to eat that week in advance. This is a keeper!
Take two pounds of small Michigan navy beans, wash and run through hot water until beans are white again.
Put on the fire with four quarts of hot water.
Then add smoked ham hocks, boil slowly approximately 3 hours in covered pot.
Braise one chopped onion in a little butter, and when light brown put it into the soup.
Season with salt and pepper then serve.
Do not add salt until ready to serve.