Kim127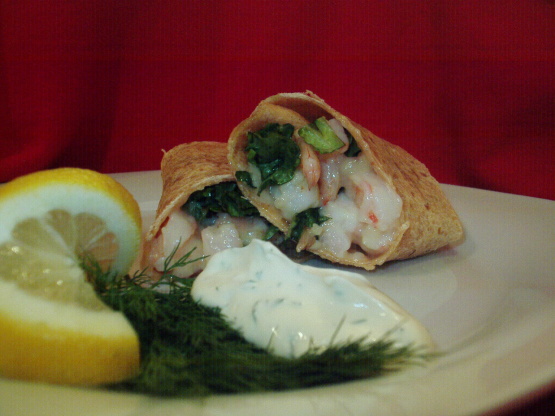 This unique recipe was originally titled "Alaska Crab Wrap Sandwich" (Source: Alaska Seafood Marketing Institute). It was intended to be a main course for 4, but crab is expensive here & not readily available, so I adapted it as a starter course for 8 using shrimp, amended it slightly and renamed it "The Elegant Wrap".

Mmm!! Tasty! I halved the recipe, used whole grain "wraps" instead of tortillas, left out the dill, and added 1 tsp minced shallots. The flavor of the brie and shrimp melted together was FANTASTIC! Positively a do over!
Combine mayonnaise, lemon juice and fresh dill. Set aside.
Place shrimp and Brie cheese in a non-stick sauté pan. Warm over medium heat till shrimp is warm and the Brie begins to melt.
Lay out the 4 warmed tortillas. Top each with 1/4 of the shrimp and Brie mixture, 2/3 cup mixed greens, 1/4 of the diced tomato and 1 slice of bacon (crumbled).
Roll up, cut in half on the bias, garnish with crisp cucumber slices + a lemon wedge and serve immediately with the mayonnaise sauce optional.