The Easiest Perfect Hard Boiled Eggs (Technique)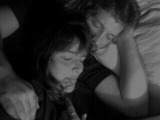 There are many ways that work well to boil eggs such as adding salt (who needs that extra salt?), using a needle to poke a hole in the eggs (way too tedious and unnecessary), adding ice or vinegar for easy peeling, etc., etc., etc. Unfortunately, those methods are all too time consuming for most people. I've been using this technique since I was a teenager (so long ago). This technique is perfect and the absolute simplest above all the others. Oh, and no utensils needed either, how cool is that!?! :) A similar method for pasta is Perfect Pasta With No Watching and No Sweating
Directions
Place eggs in medium saucepan. Cover with water 1" above the eggs. Place on stovetop over high heat.
Bring to a boil. Immediately remove from heat and cover. Let sit 18-20 minutes.
Pour cold tap water into pot allowing the hot water out by holding the pot on a slant. Let eggs sit in cold water for 1-2 minutes, then peel easily.
NOTE: (no garbage disposal/shells for gardening method) I peel the eggs under running cold water with a colander underneath to catch the shells. I placed the eggs onto paper towels to rid excess moisture for egg salad, OR place peeled eggs into a bowl of cold water, cover and refrigerate where they keep for about 4-5 days.
Most Helpful
Truly perfect way to cook hard boiled eggs. I usually pour the hot water into my dishpan to use for washing dishes (no dishwasher and our water is on a meter) and add ice cubes to the cold water. Before adding the ice water you can shake the pan to crack the egg shells a little which helps the cold water seep between the shell and the egg which makes for easier peeling too.

I made these yesterday for deviled eggs, cooked 12 eggs, per you'r instructions. Something went wrong, but I am trying to find out what, They looked perfect.. first sign of trouble was, I couldn't squeeze the yolk out of the white of the egg. I had to "dig" with a spoon, about 3/4 of the yolks out of the whites. Then when I proceeded to mash the yolks to prepare for deviled eggs, I had lumps of, uncooked egg yolks. They were rubbery. I suspect needed longer cooking for the extra eggs to be the culprit. All in all I love you'r cooking method and will use it any time I need hard boiled eggs. Thanks for posting 2Bleu.

Found this recipe on another site and my eggs came out so perfect I came over here to share...only to realize I could've found this recipe a long time ago thanks to your post. Wish I'd found this in time for Easter this year. I will never hard boil eggs any differently. The recipe I originally saw said to keep the eggs in hot water for 12 minutes. I didn't really time it...took my two-year-old for a walk and when I came back they were done. Easy! Thanks.