The Easiest Peanut Butter Cookies Ever - 3 Ingred.
flower7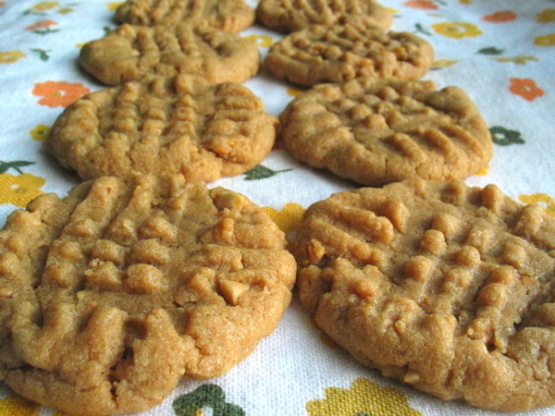 A cookie recipe with three ingredients...this is my kind of cookie! A fast and easy snack that can be embellished if desired with, for example, chocolate chips. For a more chewy cookie, drop the pan straight from the oven on the countertop (not too high!) to force the air bubbles out of the cookie.

I have been looking for gluten-free cookie recipes for a friend and this fit the bill perfectly. These were good enough to make anytime, not just when needing gluten-free. I must have made my cookies slightly larger than intended as I only got 22. Followed the recipe exactly and baked on parchment paper for 11 minutes. I used extra crunchy Skippy. Next time I'm going to try adding a few chocolate chips. Thanks for the recipe! - Oct 1, 2009. Update: Made these again - a double batch this time - and ended up with 53 (or so); they were smaller so baked for 9 minutes, which was sufficient for my taste. I did add some mini-chocolate chips to some of them, though I think I prefer them plain, strangely enough! lol Thanks again for posting!
Combine ingredients and mix well.
Roll into 1" balls and flatten in the traditional criss-cross pattern with a fork.
Bake at 350 degrees for 10-12 minutes.