The Easiest Cheesecake Ever
Saturn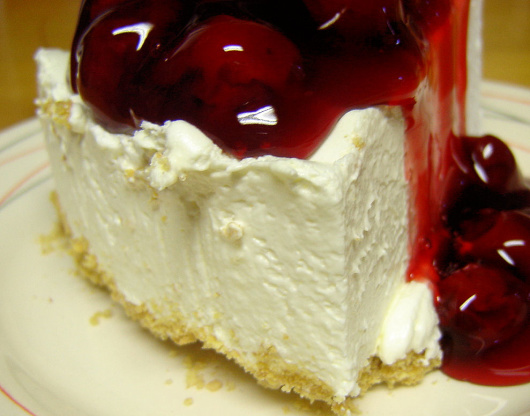 This cheesecake is one of our favorites. Its easy, cheap and so light and tasty in the summer. We hope you enjoy it as much as we do!

this was just ok, it tasted like cheesecake mix, mixed with coolwhip sorry but we were disappointed
1

(20 ounce) boxof shirriff cheesecake mix (or any brand that your grocery store carries)

1

(500 ml) container Cool Whip (the large container,thawed in the fridge)

1

(18 ounce) canof your favorite pie filling
Prepare the cheesecake mix as instructed on the box.
Once the graham cracker crust is completed (I use a medium springform pan for this), and the cheesecake mix is made up, add the tub of thawed Cool Whip to the cheesecake mix.
Mix together and spread over the graham cracker crust.
At this point, refrigerate the cake to set.
Once set, remove the sides of the springform pan.
Spoon the pie filling of your choice over the top of the cheesecake.
Serve and enjoy!