The Easiest, Bestest Focaccia Bread Ever!!
Dine Dish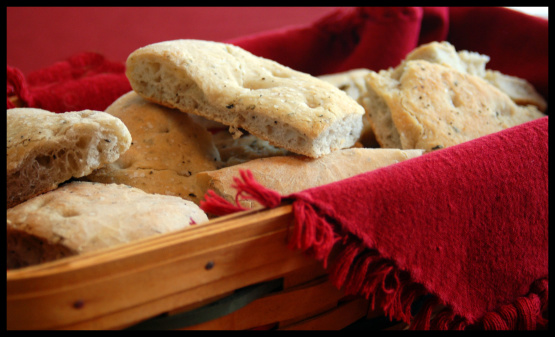 This focaccia bread is sooo easy and tastes wonderful! Tons of herbs and seasonings, and tons of flavor!! Great to make sandwiches with! You can alter the toppings to your liking. I have made this with caramelized onions and sliced tomato on top...Mmmmmm!!!

Wow. This is incredibly easy to make and tastes delicious. It really took me just one hour to make the bread and it rose and browned beautifully. I topped my bread with the olive oil, parmesan, a bit of sea salt, a light layer of an artichoke & caper tapenade I had in the frige, and then some sliced fresh tomatoes. Really, you could go nuts with toppings on the bread and try a lot of different combinations. It's a versatile recipe that I know I'll be making again, even during the week (did I mention it only takes one hour for this bread, start to finish?!?). Thanks for posting such an easy, excellent recipe.
Mix the yeast and water in a small bowl. Let proof for 10 minutes (until bubbles begin to form).
In large bowl, stir together flour, salt, sugar, garlic powder, oregano, thyme, basil, and black pepper.
Add the yeast mix and vegetable oil to the dry ingredients and combine.
When dough has pulled together, turn out onto lightly floured surface and knead until smooth and elastic.
Lightly oil a large bowl, place dough in bowl, and turn to coat with oil.
Cover with damp cloth and let rise in warm place 25 minutes.
Preheat oven to 425 degrees.
Punch dough down, place on greased baking sheet.
Pat dough into 1/2-inch thick rectangle (doesn't have to be perfect).
Using your knuckle, make indentations in the dough about 1/2-inch apart, then prick dough with fork.
Brush top with olive oil, then sprinkle with Parmesan and mozzarella cheese.
Bake for 13-15 minutes until golden brown.