The Easiest and Best Chicken Tortilla Soup
BecR2400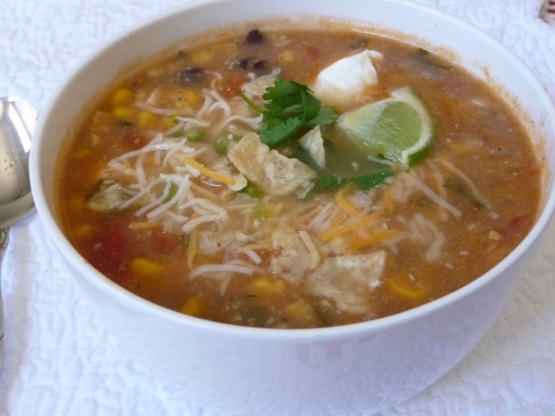 Our family favorite chicken tortilla soup! Muy delicioso--very delicious--and so simple, quick, and easy to make using pantry items. Less than 45 minutes from start to finish, so a great weeknight meal. I sometimes add a can of petite diced tomatoes plus an extra can of corn to s-t-r-e-t-c-h this soup to feed a few extra guests, or you can simply double the recipe to feed a large group. Season to taste with salt & pepper, cumin and chili powder (I use a pinch of each). Don't skip the fresh garnishes of lime, avocado, cilantro, shredded cheese and sour cream---they really make this soup. This soup makes great leftovers. Enjoy!
Wash chicken. Place chicken and chicken stock into a 6 or 8 quart stock pot; cover. Bring to a boil over high heat; reduce heat and simmer for 25 to 30 minutes, until chicken is done.
Remove chicken from pot and place on a cutting board.
Add pico de gallo salsa, corn, black beans and tortilla chips to the stock pot.
Dice chicken and add back into soup. Stir well; bring to a boil and simmer, covered, for 10 to 15 minutes. Season to taste with salt & pepper, cumin and chili powder.
Serve while hot. Also good reheated the next day.
Garnish with a squeeze of fresh lime and your favorite toppings.