The Classic French Bistro Sandwich - Croque Monsieur

My two versions of this classic French café/bistro sandwich - oven baked for large quantities and ease.......or, the traditional frying pan/skillet method! You can always rely upon the French to add a certain "je ne sais quoi" to even the simplest food ...including the humble cheese and ham sandwich. The croque-monsieur (which becomes a croque-madame if you top it with a fried egg) is a great favourite in French cafés & bistros, and there are as many methods of crafting it as there are cafés! This one works for me. But, please be warned ... it's not for calorie-counters, the Cholesterol Police or those of a nervous disposition!!
Directions
Spread the bread with some of the softened butter, make 4 sandwiches, each with one slice of ham and one slice of cheese. Press them firmly together.
Beat the eggs with the water, add the salt and pepper to taste, and dip the sandwiches into the egg mixture, coating all sides well.
Heat the rest of the butter in a heavy- bottomed frying pan/skillet, when it has melted and is very hot - but not brown, fry the sandwiches for about 5 - 8 minutes, turning once.
Serve immediately.
If you prefer, although it is not traditional, you may place the croque-monsieur into a very well-buttered baking pan and bake in a moderately hot oven - 175°C/350°F - turning once, for about 10 to 15 minutes. It is easier to prepare a larger number this way and keep them warm until you are ready to serve them.
Most Helpful
Did I miss something? "Classic" croque monsieur includes béchamel sauce. This is a ham sandwich.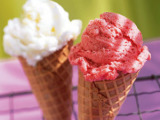 These were absolutely delicious sandwiches !!!! Ham and gruyere go so well together. I cooked it perhaps a few minutes too long or should of cooked on a lower heat in the skillet but they turned out wonderful anyways. Had this with a lovely bowl of soup. This is such a filling sandwich...but oh so yummy. Thanks for sharing your recipe French Tart..always a pleasure doing your recipes.

I'm not giving this stars, because I didn't have gruyere and just used cheese. Plus, I forgot the salt and pepper. Saying that, I did enjoy it. I make this without the egg all the time, but the egg added a little more "heart police" to the mix. Next week, I'm getting a better class of ham, gruyere and will rate it then.