The Champion of Roast Beef Sandwiches
GaylaJ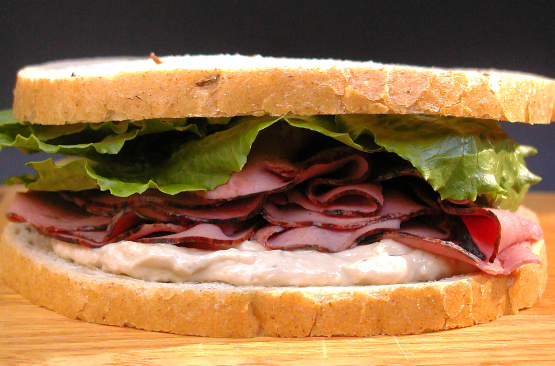 A very tasty sandwich that you must taste. Try this with my spicy mustard spread.

Talk about TASTY!!! The spread is to die for! I thoroughly enjoyed this sandwich and I usually do not care for a cold lunch! I will be making this one often! I topped it with paper thin sweet onion slices for extra crunch....I just loved it! Thanks for the impressive recipe Drago!
1⁄2 cup sour cream

1

tablespoon dry onion soup mix

1

tablespoon prepared horseradish, drained
1⁄8 teaspoon pepper

8

slices jewish rye bread
1⁄2 lb thinly sliced deli roast beef
lettuce, to desired amount
In a small bowl, combine the first four ingredients; mix well.
Spread 1 tbsp on each slice of bread.
Top four slices with roast beef and lettuce; cover with remaining bread.