The Challah Lady's Heavenly Challah
scancan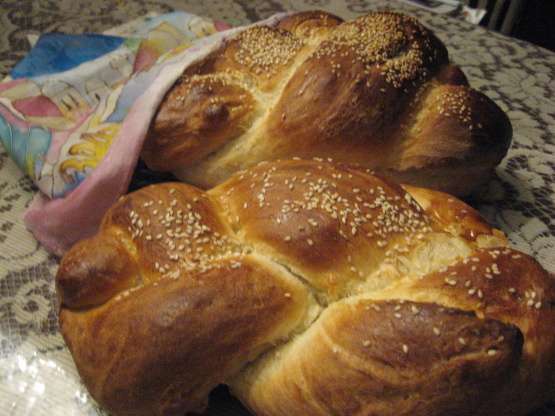 You never made challah because it seemed like more trouble than it's worth. This is simply not true and the extra loaves can be frozen in foil and will taste just made. Bakery challah just won't cut it when you can make these. The taste is absolutely uncomparable to anything you ever bought. When you run into trouble making your challah "who ya gonna call, the Challah Lady". Mrs. Heller has a hotline and the best recipes. Here's one that our family has been enjoying so much and only two eggs, yay! Just note that the recipe calls for 5 lbs. but you really need to have some extra flour on hand to add several tablespoons at a time until your dough becomes nice and smooth and not sticky or dry. Note* The secret to bread with a crusty exterior and soft interior is to place an oven-proof dish filled with hot water on the bottom of your oven and for the first 15 minutes bake your challah at 400 degrees, then remove the challahs from their pans and place them on the rack and lower to 350 and continue baking while the hot steam does its work.

I wanted to make challah for a friend, and decided to make this recipe. I scaled it back to one loaf, but used one whole egg and about 1/4 cup sugar. This made a very light textured loaf. Other challahs I have had are a bit eggier, but I think this is possibly a bit more versatile with meals. I am not sure how my recipients will like it, but my little test loaf was quite good.
5

lbs bread flour (hi-gluten flour)

5

cups lukewarm water (use boiling water, let cool just until you can keep your finger in the water while counting to 10 )

2

ounces fresh yeast (3 packets.) or 6 3⁄4 teaspoons dry yeast (3 packets.)
3⁄4 cup sugar (I use 1 1/2 cups, much better)

2 -3

eggs
1⁄2 cup oil

3

tablespoons kosher salt
Dissolve yeast, water, and 1 tablespoon of sugar in a bowl until nice and bubbly.
Add rest of sugar and oil.
Add eggs and mix well.
Pour mixture into extra-large bowl. Add sifted flour.
Add salt.
I do not use bread machine so these are my direction for doing it by hand:.
Combine flour with rest of the ingredients with your extra flour close at hand as you will need it. Combine and combine by squeezing, turning the dough over and punching the dough down again and again. Add flour as needed until it feels smooth and not sticky at all. The dough should bounce back very quickly when you punch it down.( You will be kneading the dough for about 10-15 minutes). If the dough feels too dry because you added too much flour then tablespoon by tablespoon add a little oil and alternately with water if needed.
Oil your large bowl, place your dough inside and then oil the top of the dough as well (can use an oil spray) and place your dough in a warm spot in your kitchen. Cover the dough with a wet towel (not dripping wet) and wait until it has doubled in size.
Braid or shape into loaves.
Let rise until the loaves double in size.
Paint loaves with an egg-white and sprinkle with sesame or poppy seeds.
Bake at 350 for 45-60 minutes until the challah are golden brown and the bottoms make a hollow noise when you give a little patting to them.