The Brown Hotel's Hot Brown Sandwich Casserole
RozieG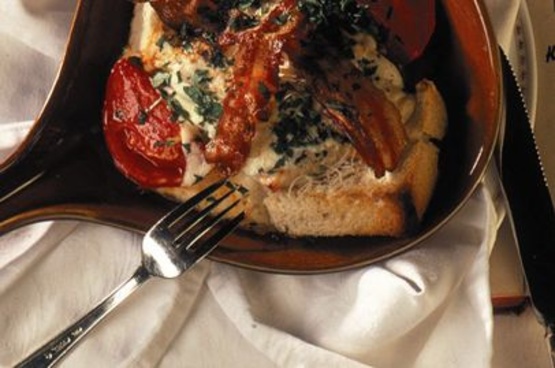 the brown Hotel is where the famous Hot Brown originated a slight twist for a great pot luck dinner.
All I can say is "WOW!". I made this last night and couldn't believe how delicious it was. I made two small changes; I mistakenly used double the amount of bread slices, because I was thinking they were basically "sandwiches" . (The recipe for the Hot Brown on the Brown Hotel's website specifies "Texas Toast" for the bread, but I used plain old white bread.) I also added a very thin slice of ham on top of each turkey slice. My DH also thought this was an excellent dish. I'll definitely be making this again. I'm really surprised that there's only one rating for this wonderful recipe. Thank you for posting it.
Melt the butter in a large saucepan.
Add flour stirring to make a roux; cook 2 to 3 minutes.
Thoroughly beat eggs; beat into milk.
While stirring, very slowly add milk mixture to butter mixture.
Stir in parmesan cheese.
Cook until mixture thickens, but do not boil.
This will take 30 to 45 minutes.
Mixture should heavily coat the back side of a large spoon.
Remove from heat.
Fold in whipping cream and add salt and pepper to taste.
Trim crust from bread edges.
Toast 10 slices in a regular toaster or place in pan under broiler till golden.
Do both sides.
Reserve remaining bread slices.
Line the bottom of a 9x13x2-inch casserole with 6 slices of toast.
Place the remaining 4 slices of toast in a 8x8x2-inch pan.
(If you can place all in one pan then do so.).
Top with slices of turkey.
Cover with sauce, dividing the sauce between the two casseroles.
Spread all of the sauce over the turkey.
Sprinkle with remaining parmesan cheese and paprika.
Place in a pre-heated 350 degree oven for 15 minutes or till golden brown.
While casserole is baking, fry bacon till crisp; drain on paper.
towels.
When cooled, break into bits.
Toast remaining slices of bread.
Cut in on a diagonal.
When casserole is done, place toasted bread around outer edge, point side up.
Garnish top of casserole with bacon bits and diced tomatoes.
Sprinkle with chopped parsley.
Serve while hot.