Derf2440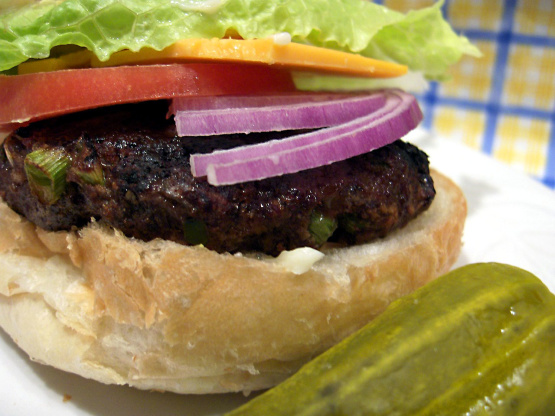 AWSOME Burgers if I do say so myself!

Thanks for such a GREAT recipe, Di! Very delicious! Had company over and everyone really loved them! A guest did not care for green onions, so I minced about 1/2 C sweet onion, (I doubled the recipe); I used ground garlic, wet in the jar, same for ginger, and used only 1/2 of the amount for doubled recipe, but will use more next time. Didn't know if the ground would be too powerful...but these were SO good! Yum!!! :o) UPDATE: Diana, Had these again tonight and followed the recipe exactly! These still get 5 stars from me, (*****) but don't know if it's fair to do that again. But! I wanted everyone out there to know that these are simply the best! And the aroma while they are cooking is enough to make you want to eat them all to yourself! No sharing!!! lol We will always make our burgers this way from here on out! (BTW, it was our anniversary tonight and we all agreed that this was more enjoyable than eating out in some overly priced restaurant!!) I can never thank you enough for posting this recipe!!
In a bowl combine beef, bread crumbs, green onions, coriander, hoisin sauce, garlic, ginger and egg.
Mix well.
Make 5 burgers.
Poke a hole thru the middle.
In a small bowl mix together water, hoisin, and sesame oil.
Place burgers on a hot grill and brush the top with the previous mixture.
Flip after 7 min or so and baste the other side.
Serve with condiments of choice.