This is a wickedly bittersweet stout cocktail that is enjoyed in Ireland. This is good for someone who wants to lighten up their pint of Guinness. When my husband and I were in Dublin, his Aunt thoroughly enjoyed hers and she typically does not drink! Please note that this recipe uses blackcurrant concentrate, NOT juice. Food.com would not let me list it. Enjoy!
1⁄4 cup blackcurrant juice (NOT juice but a concentrate such as Ribena)
15 ounces Guinness stout, chilled (1 can - 440 ml)
Directions
Pour blackcurrant concentrate into a pint glass.
Add Guinness.
Drink!
Reviews
Most Helpful
I love Guinness, and this was a great way to change it up a bit. The blackcurrant concentrate (I used Ribena) just added a slight hint of sweetness that sort of made this a summertime drink! I was surprised at how well the two ingredients worked together. I will be enjoying this again! Made for ZWT 8.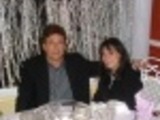 Something different - just subtly sweet, so only for people who normally like stout. Very good!