The Bistro's Cherry Scones
Annacia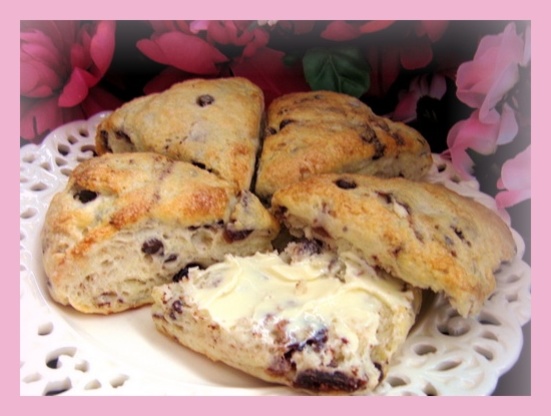 Slightly revised from the Door County Cherry Scones from The Bistro at Liberty Square in Egg Harbor (wherever that is ...), original recipe is posted at: http://www.jsonline.com/features/food/40228777.html. These scones are magnificent!

Truly wonderful. We have a cherry tree in our back yard that fills our freezer every year and this has become one of our staple recipes. I have made it numerous times just as written but this time I was short a few things so I did half butter/half shortening and subbed a cup of light sour cream for the yogurt but added 1 tsp of vanilla to make up the flavor. I always substitute dark chocolate chips for the white just because I prefer them. Next time I might experiment with adding in some oats.
Preheat oven to 375 degrees.
In medium bowl, whisk together the flour, sugar, baking powder, baking soda and salt.
Cut butter into flour mixture until mixture resembles a coarse meal.
Add cherries and chips and mix well.
Make a well in center of mixture and pour in yogurt (or buttermilk).
Mix ingredients into a soft, slightly wet dough.
Cut dough in half.
Take half of dough and turn dough out onto lightly floured work surface. Shape into a ball and roll to a circle roughly 1/2 - 3/4 inch thick.
Cut into 8 wedges. Place each wedge onto a cookie sheet sprayed with cooking spray.
Repeat with other half of dough.
Sprinkle wedges with turbinado sugar.
Bake at 375 for about 20 minutes or until golden brown.