The Best Zucchini Patties
PaulaG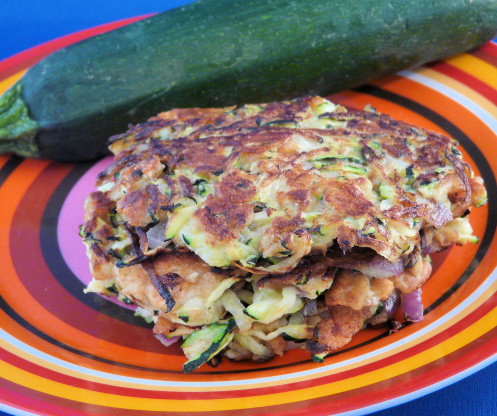 I can't for the life of me remember where this recipe came from but I have been making these for about 30 years now. Everyone absolutely loves them. I nearly always double or triple the recipe because we love them as snacks or in our lunch the next day. Go by the recipe and don't add any extra salt as there is enough in the cheese and crackers. Enjoy! P.S. 8-7-09 I have been making this for over 30 yrs. and have never had a problem with watery zucchini. Might just be a climate issue.

Great recipe! Loved it. Only recommendation is to let the shredded zucchini dry out some before using. Give it a good squeeze in some paper towels or let it sit in a colander. Taste was fantastic, but because I didn't drain it well, the texture was mushy. DH and kiddos wouldn't eat it because of that. Definitely drain! Thanks, will DEF do this again.
1

cup grated zucchini (skins on)

1

cup coarsely crumbled saltine crackers

2

tablespoons chopped onions

1

beaten egg
1⁄2 teaspoon garlic salt
1⁄2 cup grated parmesan cheese

2

tablespoons oil (for frying)
Put all ingredients (except oil) into a large bowl and mix well.
Spoon mixture into hot oil and flatten slightly to make patties. Fry until cooked through and golden brown on both sides. Drain extra oil off on paper towels and enjoy!