Julie F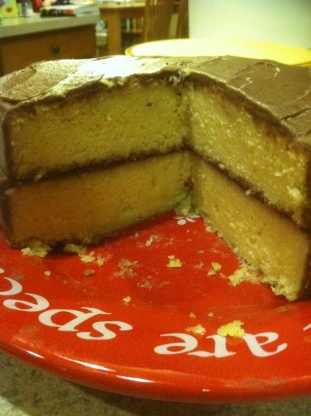 I am new to making cakes even though I love to bake. I was originally looking for a yellow cake which this was suppose to be. It wasn't until my daughter's birthday party that we realized that it wasn't a yellow cake but a very soft and yummy white cake. I now realize that most yellow or golden cakes have just yolks in them. This cake will look like it has too much liquid in it but it came out beautifully. Tops best with royal icing of soft and medium consistency. To beat the crumbs use a loose icing layer (royal icing) to cover the cake first. Set in the refrigerator 10-15 minutes. Then go back ice with the real stuff. No more worries about the crumbs. Modified from a web recipe from unknown origins. Butter- I used cheap margarine with salt in it. Milk-1 3/4 cup water & 7/12 cup powdered milk ( 1/3 cup + 6 T)

I loved this recipe. I looked at a whole bunch of them, before I decided that this was the one I wanted to try. I loved the fact that it didn't have a billion ingredients to blend in, and that it was remarkably easy in instructions- since I bake with my kids, this is a HUGE thing for me. I loved the way the cake came out, and when I made cupcakes, they were great too. One of my favourite tricks is to add "Rum" extract, and have a butter - rum cake. My husband LOVES it with my caramel icing- it's delish.
Preheat oven to 350.
Grease and flour pans lightly. I used 2 9" square. You should be able to use 2 8"-9" rounds just fine.
Cream together butter & extract.
Add sugar slowly until all is added and it is mixed well.
Add eggs, one at a time, mixing well after each addition.
In a separate bowl sift flour, baking powder and salt together twice.
Now add flour mixture, alternating between the milk and flour. Mixing well after each again.
Pour equal amounts into each pan and give it a tap on the counter to remove any air pockets.
Start checking at 25 minutes to prevent burning on the bottom and sides.
Keep checking every 5-10 minutes depending on the wetness of the tester.
If at 25 minutes the cake still wiggles when you open the door then you may need the full 30-40 minutes.