The Best Thai Red Chicken Curry Recipe
lvt96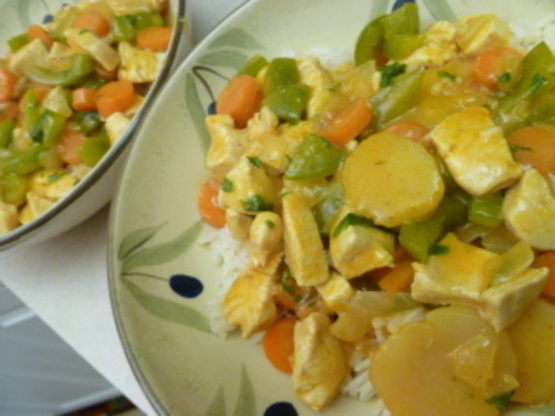 Really good - you can change, substitute, mix..the vegetables...to whatever you have on hand.

This was actually milder than I thought it would be. Very tasty and easy to throw together after doing the chopping. I changed the veg based on what hubby will eat, so snow peas, red pepper, onion, carrot, and bean sprouts. I thickened the sauce with guar before serving. While I agree this would be wonderful over rice, since I carb count I ate it as is. Might serve on cauliflower fake rice next time. I did use splenda and just a touch of black strap molasses rather than sugar. Thanks for sharing.
Heat the oil in a large saucepan over medium and cook the onion for 5 minutes.
Add the curry paste and garlic then cook, stirring, for about 1 minutes.
Add the coconut milk, chicken broth, fish sauce, sugar, red pepper flakes and salt then bring to a boil.
Add the vegetables and reduce heat and simmer until vegetable are soft.
Squeeze lime juice over chicken then add chicken and basil to the pot.
Cook until chicken is completely cooked.
Serve over Jasmine Rice.