The Best Sweet Potato Casserole
Laura G.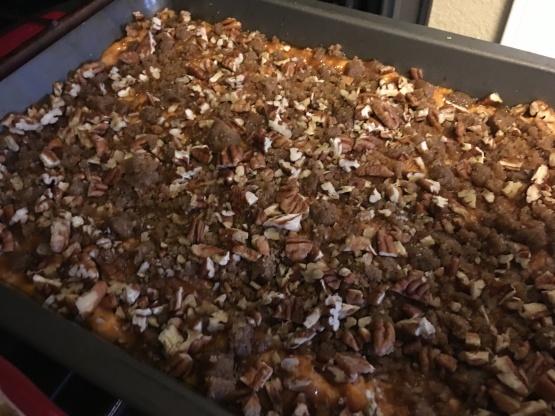 This recipe is one of the simplest you'll find, and the yummiest for sure! (It's sweet enough to be a dessert.) I have not met one person who did not love this. The sweetened condensed milk is what makes this recipe. See my note on how to cook the sweet potatoes.

This recipe is AMAZING! Everyone at Thanksgiving dinner last year loved it so much, that they asked me to bring it to Christmas dinner as well. It is on the sweet side, but when paired with a savory turkey, it is perfect!
Combine all ingredients except ingredients for topping and pour into a 9x13-inch pan.
Make the topping: combine all ingredients until everything is mixed well.
Sprinkle topping over sweet potato mixture.
Bake at 350°F for 35 minutes. (Topping should be set and sort of melted into the sweet potatoes to form a crispy but flat top.).
*NOTE: To cook the sweet potatoes, fill a large pot with water and put the sweet potatoes in; turn on stove to HIGH. Once the water comes to a boil, turn down heat and let boil with lid on for 30-35 minutes or until tender when pricked with a fork. Once they cool a little it should be easy to peel them.