The Best Sugar Cookie Cut-Outs W/ Icing
This recipe makes about a MILLION of the best sugar cookies I've ever had! I'm not sure exactly how many...6 dozen was a guess...maybe more! The icing dries to be nice and firm. Perfect for stacking.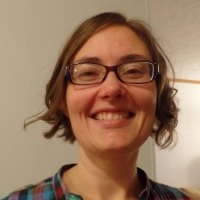 I will second scrmnmimione in that this dough was very tough! I did chill the dough, but only after rolling it out between 2 sheets of parchment paper, and even then the dough was very difficult to roll out. I cannot imagine trying to roll it out after it was chilled. I like nutmeg quite a bit, so I didn't hesitate to add the stated amount. I followed the recipe, other than halving it, and got 61 2-inch round cookies. The cookies, after cooling, were hard. I measured them against the cookie cutter I used and they gained about an 1/8" all the way around for a total of about 1/4" in spread. The dough smelled strange for a sugar cookie, though not bad. After the first bite, I told my husband they tasted like something else, but I couldn't place it. He said fortune cookies, and he was right! They are hard like and taste like fortune cookies. Not what I was looking for in a sugar cookie cut-out at all.
In a very large mixing bowl, beat the eggs.
Add butter, sugar, evaporated milk and mix well.
Add a tiny amount of water to the baking soda (just enough to stir) and add to the bowl.
Sift flour and baking powder together; blend gradually into cookie mixture.
Chill until easily handled.
Grease and flour cookie sheets.
Roll dough to 1/4-inch thickness and cut into desired shapes.
Bake at 375° for 10-12 minutes.
Remove to wire racks to cool.
Ice cooled cookies Icing: Sift powdered sugar into a bowl.
Add evaporated milk and vanilla, mix well.
Add food color if desired.