The Best Spinach & Artichoke Dip - Vegan
Nikoma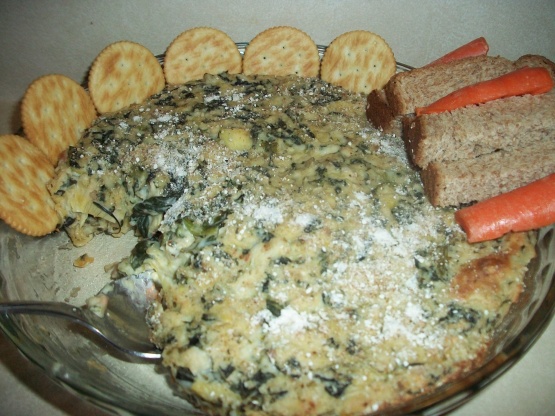 This recipe is a deliciously-creamy, vegan version of the popular appetizer. I know you will LOVE this, and your dairy loving guests will have no idea that this wonderful dish is not made with mozzarella, cream cheese or mayo. My dear friend, who is lactose intolerant, did NOT eat the dip at first because she was convinced there was dairy in it. The white beans in this blended with the vegan cream cheese make the perfect non-dairy base for the spinach and artichokes. I guarentee, this will give TGI Friday's version a run for its money!

Top Review by Nikoma
YUM!! I could make a meal of this. Can I just throw in a cup of rice next time and call it dinner? This was my first attempt at a Vegan version of my old favorite. As someone who's tried many regular recipes for spinach and artichoke dip, and someone who has eaten many many many versions in my life (both great and incredibly bad) I was not expecting this to be so good! I made just a couple minor subs. I only had shallots, so I used 2 of those for the onion. And I used 1/2 veg cream cheese, and 1/2 veg sour cream. Needed some salt and pepper, and used matzo meal for the panko (was the only bread crumb - esk thing I had) THANK YOU KOSMIC!!
Preheat oven to 400 degrees.
Add the drained beans into a food processor and blend until smooth, scraping down the sides as you go.
Next add the vegan cream cheese to the bean mixture, and blend until both are well combined and creamy.
In the meantime, heat the olive oil over medium heat in a sautee pan.
Add onion and cook until nearly translucent.
Add garlic and cook one minute more until fragrant.
Add artichokes and spinach and cook for 2-3 minutes.
Remove from heat and stir in bean mixture from the food processor, as well as the panko and nutritional yeast.
If using the vegan cheese, you may stir it into the dip completely, or sprinkle over the top.
Cover with foil and cook about 20 minutes.
Remove foil and cook for 10 or 15 minutes more, until a little browned and heated through.