The Best Southern Green Beans
lazyme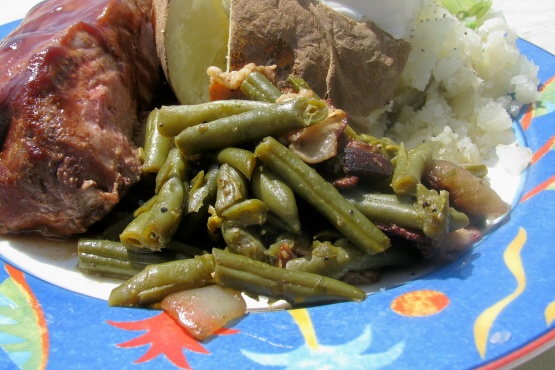 These are FANTASTIC! This recipe was revised from an old family favorite! My southern roots come through on this one! Either way the beans end up melting in your mouth and the cooked bacon adds more flavor! REALLY tasty! Good for cookouts or to compliment any meal!

I was so excited to see this posted. This is how my grandmother used to make green beans. I made this for my family and boy oh boy, what a delight. I left off the red pepper flakes because my kids can't take the heat. But I am sure that would be good to try. Thanks. This really made me so happy.
Put green beans in pot- if canned add juices, if frozen add water enough to see but not cover beans- cook on medium heat.
Fry bacon until cooked but not too crisp- drain on paper towel.
Cut onion in large (thick) slices and break rings apart in to beans.
Crumble or rip bacon apart add to beans.
Add spices to taste.
Let cook for a few hours on low heat.
If want to serve sooner- turn heat up and cook until water boils down.
OR can put in crockpot on low all day long and let simmer.