The Best Soft Chocolate Chip Cookies
Katzen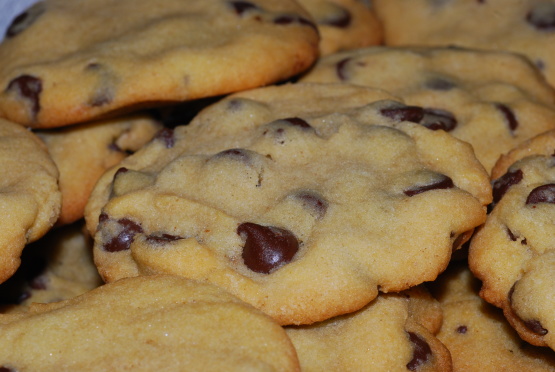 Soft and fluffy chocolate chip cookies. If you prefer harder cookies you can increase oven temp to 375* F and shorten baking time to 8-10 mins. If you like nuts add a cup to the dough with the morsles. Also, you can multiply the recipe and freeze for baking later. Form the dough into balls and partially freeze on cookie sheet(this prevents cookie dough from sticking and freezing together). then you can put them into a freezer bag and enjoy them later. To keep soft cookies soft, put a slice of bread in the container you store the cookies in.

Wow....hold on...I'm eating one of these as I type... Ok, phew!! Delicious!!! This was different from all of the other recipes that I have tried (even the recipes that have over 250 reviews at 4.5 starts) and this is by far the best. It does seem to need a touch more sugar, but overall...PERFECT. They turned out amazing! I followed the recipe without making any changes; however I did have to bake these for about 16 minutes. But that is totally fine with me... These were super easy to make since you don't have to wait for butter to come to room temperature! I typically don't like planning that far in advance. I'm an impulse baker and having to wait for butter to come to room temperature is a pain so another bonus by using this recipe! Try these! Next time I will add an additional 1/4 cup of sugar. These are going in my "favorites".

UPDATE: After these sat for a day... they were really hard and I could taste how prominent the salt was. Way too much salt! So... I'm now making these a 2nd time, but really tweaking this recipe. When made as-is, these cookies will get hard and they do not spread out when baking. For some I'm sure this is ok, but I like chewy/soft cookies...and trying to bake these thick cookies at 325 just doesn't cut it. You have to bake them longer to get them baked all the way through so in turn you are not getting soft cookies. Also, I don't really like baking cookies with shortening. So here's what I did this time... I like these much better!!! I used margarine instead of shortening... I used half the amount of salt and I added apple cider vinegar. For those of you who have never tried this - this will ensure your cookies are soft. This is a trick I learned from my mom who is an awesome baker.
Preheat oven to 325*F.
Sift together flour, baking soda, baking powder, and salt into a small bowl.
In a large bowl, cream crisco, sugars, and vanilla.
Add eggs one at a time, beating well after each addition.
Beat in flour mixture one cup at a time.
Stir in morsles.
Using a spoon to measure, roll dough into1 inch balls in palms and drop 2 inches apart onto ungreased cookie sheet.
Bake at 325* F for 11-12 minutes.
Allow to rest on cooling rack 10 minutes.
Enjoy!