The Best Pumpkin Pie ever
truebrit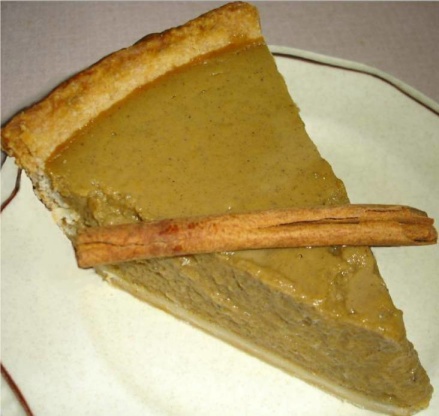 Another wonderful recipe I found inside my mothers old collection of 'found but never tried newspaper recipes'Easy to make and sooo good.

I made this pie for Thanksgiving as my first attempt ever at making pumpkin pie. It came out delicious! And it was simple. Most of the ingredients are things you would have in your home anyway. I subsituted the 1/2 teaspoon of ground ginger by using 1/2 teaspoon of pumpkin pie spice. The flavors were perfect, and it was not too heavy. No one knew this was a reduced fat recipe. I will definitely be making this over and over again.
Combine all ingredients in blender except pie curst, blend well Pour into pie crust, Bake in preheated oven 450F for 10 min.
Turn oven down to 325F.
Bake for another 40 min or until toothpick inserted comes out clean.
Cool and serve with whipped cream.