The Best Pineapple Cheesecake
PaulaG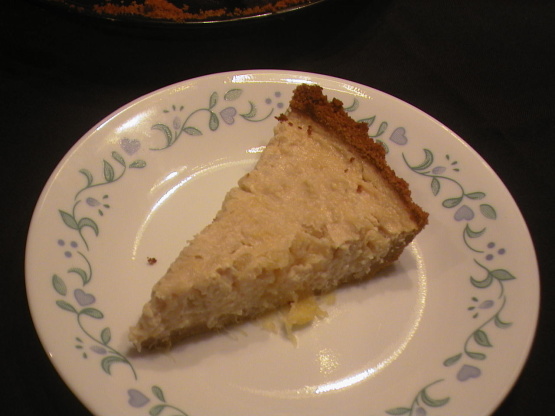 1 bread/starch, 1/2 fruit, 1 fat Note: The filling can be baked without the crust.
Top Review by PaulaG
Used my microwave recipe for the graham cracker crust. Prepared the filling in my food processor and baked it at 350 degrees for 45 minutes. I may have drained the pineapple to much, should I make again I think I will leave more juice in the fruit. Thank you for sharing.
To prepare crust: Preheat the oven to 350°F Lightly coat a 9" pie pan with cooking spray.
In a medium bowl, thoroughly mix the graham cracker crumbs and melted butter.
Press into prepared pan.
Bake for 15 minutes, until lightly browned.
(Since ovens vary in temperature, check after 12 minutes. Do not allow it to over-brown.) Cool before filling.
To prepare filling: In a food processor or blender, combine everything except the pineapple.
Process until smooth.
Fold in crushed pineapple.
Bake for 45 minutes, until set.
Cool in refrigerator.