Derf2440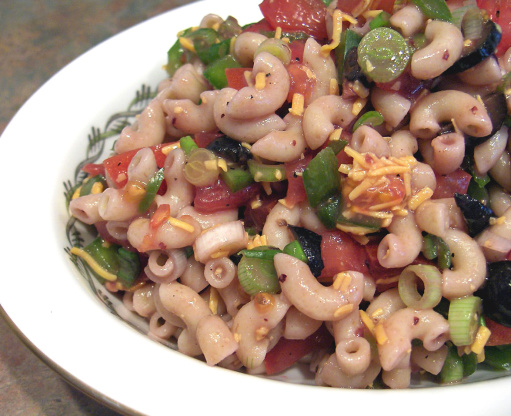 Great Pasta salad for summer. Very easy and inexpensive.

This was a great salad! I couldn't find any decent tomatoes, so I stuck w/the red and green bell peppers, and a red onion...also added chunks of cucumber, and whole olives since I wasn't sure if everyone liked olives (easier to pick out than sliced). I couldn't find the sun dried tomato dressing, so I used a reduced calorie Italian dressing. Thanks!
Cook pasta according to directions, about 8 minutes, stirring occasionally.
While pasta is cooking, chop tomato, peppers and onion into very small pieces. Add olives and mix.
Drain Rotini; rinse with cold water for about 3 minutes.
Mix pasta with tomato, peppers, onion and olives.
Refrigerate for about 1/2 an hour.
Add salad dressing; mix well.
Add Parmesan cheese; mix well.
Serve immediately.
If you have left overs, you will have to "re-wet" salad by adding a little more salad dressing the next day, especially if you substitute the dressing with a fat-free dressing.