The Best Parmesan Chicken
Prep 15 mins
Cook 45 mins
Easy, Fast, and excellent!!!! This is one of my families favorites.
Directions
In a pie plate or shallow bowl, combine butter, mustard, Worscestershire, and salt. In a plastic bag, combine crumbs and Parmesan cheese. Dip chicken in butter mixture, then shake in crumb mixture. Place in a ungreased 13x9x2 inch baking pan. Drizzle with any remaining butter mixture. Bale at 350 degrees for 40-45 minutes or until chicken is no longer pink and juices run clear.
Most Helpful
This was very good and easy to make, the only thing was that I had extra breadcrumb/cheese mix. I was a little suprised when the recipe called for mustard, but it gave the chicken a nice "zesty" flavor. I served this with Pasta with pesto on it. I used panko italian seasoned breadcrumbs instead of plain fine breadcrumbs. All in all, a good recipe.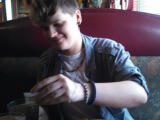 Very good and very easy. I followed the recipe as written, using seasoned bread crumbs. Thanks for sharing.

This was very good. The chicken turned out so tender and juicy and full of flavor. Followed the recipe exactly using only 3 chicken breasts. Thanks for the great recipe!