The Best (No Kidding) Buttermilk Pancakes
Frank K.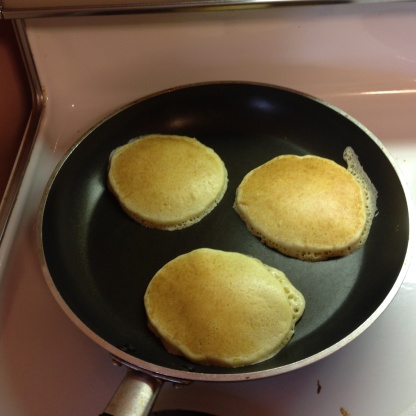 I know there are a zillion pancake recipes already but I went thru and this one IS different and SO good. I think that mixing well, sifting the dry ingredients, and carefully folding in the egg whites makes these so very fluffy. And, wonder of wonders, you can freeze the batter, defrost in the fridge, and the pancakes are perfect. One more thing--you must use real maple syrup and you must warm it before serving it with the pancakes.

Just made these, they're great. I got kisses and thank you's!
I'm trying to incorporate coconut oil into my husband's diet so I used 3 T melted organic extra virgin coconut oil instead of butter. The coconut oil adds nice, subtle flavor to the taste. Served with butter and maple syrup, nobody noticed the difference. Taking cues from other reviews, I increased the sugar to 3 T & added 1-1/2 tsp vanilla extract 1/2 tsp lemon extract. The griddle does NOT need to be higher than medium, in fact, a bit lower. Since the batter is so thick and fluffy, the cakes take longer than standard pancakes to cook through before they're ready to turn, and the first batch I made were too dark. Turned off the heat, wiped the pan, started over at setting 4.5 (5 being Medium), and the rest were beautful.
Beat the yolks until pale and smooth.
Beat in the buttermilk and then the baking soda and mix well.
Sift in the dry ingredients mixing as you add; make sure the batter is smooth.
Add in the melted butter and mix well.
Beat the egg whites in another bowl until stiff.
Fold into the batter until no bits of white are visible.
Let batter stand about 20 minutes before making pancakes.
Make sure your griddle is really hot (the old water droplet test).
Ladle batter onto griddle; turn when bubbles form across the cakes and allow to lightly brown on the second side.
Serve with warm maple syrup and sweet butter.