The BEST Mushroom Stroganoff (Vegan)
Angie A.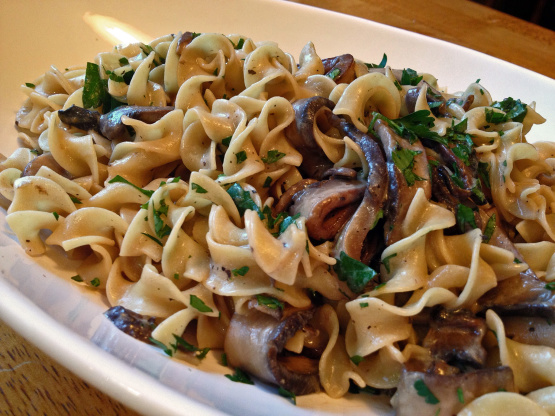 I've tried several online recipes for vegan stroganoff but haven't been wowed by any of them. I created this version and it is by far the best we've had. My whole family loves it! It takes amazingly like the stroganoff we remember from our omni eating days. :o)

last time I made stroganoff was over 30 years ago, when I still ate meat. Just recently I became a vegan, my son wanted to have Polenta with lemon chicken but I persuaded him to try vegan mushroom, there were my search started. Your one was by far the easiest one to make. I used alpro coconut yogurt (couldn't find sour cream) and gluten free soya sauce as I am Coeliac. It came out DELISH, my favourite food at the moment and it goes so well with Italian polenta. My son loved it too
Cook and drain pasta according to package directions.
Meanwhile, in a large skillet, sauté mushrooms and onions until mushrooms have given up their liquid and onions are translucent.
Add garlic and cook for another 1-2 minutes. Remove from heat.
In a medium sauce pan, bring broth to a boil. Add salt, pepper and worcestershire sauce.
Whisk in flour and continue cooking until sauce begins to thicken.
Return skillet to low heat and stir thickened sauce into mushroom mixture.
Stir in sour cream (don't allow it to boil) and serve immediately over hot ribbon noodles.