The Best Lentil Salad, Ever
rpgaymer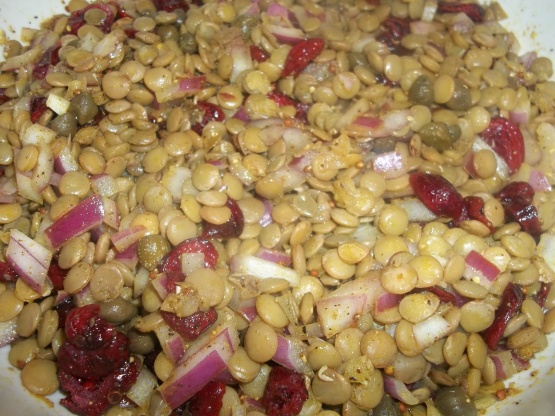 This recipe was created by Sarah Britton and posted on the My New Roots blog. She calls it the best lentil salad ever, and I have to agree. I serve this over a small bed of baby arugula, and top the salad with some crumbled goat cheese for a healthy, tasty meatless meal. Other optional add-ins mentioned by Sarah are walnuts, fresh herbs & sprouts.

Delicious salad and a great way to use lentils. I especially loved the addition of the cinnamon, nutmeg and cloves as they really added a wonderful flavor to this salad. I used green onion vs. the red as I was out and I took the advice of one of the reviewers and added some feta, toasted nuts and served the lentils on some arugula. Added a few extra dried cranberries just because I love them so much in salads. Will definitely make this salad again for sure. Made for PRMR, January, 2014.
Rinse lentils well, drain. Place in a pot and cover with a 3-4 inches of water, bring to a boil, reduce to simmer. Check lentils for doneness after 10 minutes, but they should take about 15 minutes in total. You will know they are cooked if they still retain a slight tooth – al dente! (Overcooking the lentils is the death of this dish) Drain & rinse the lentils under cold water and set aside.
In a small bowl, make the dressing by whisking together the olive, vinegar, maple syrup, mustard and all the spices (salt through cinnamon).
In a large serving bowl, gently combine the lentils and dressing. Add the onions, cranberries and capers and stir to combine well. If using other add-ins such as herbs, greens, or cheese, wait to add until just before serving. Otherwise, this salad can hang out in the fridge for as long as a couple days!